​
Increase your visibility in the business community
​
Membership brings credibility to your business
​
Promotions via exciting events and alignment to key business matters
​
Create key networking opportunities
​
Access to members-only services
​
Acquire customer referrals
Benefits of Membership

Did you know?
Our strong mix of formidable local and international member companies; strong networking links; close association with the U.S. Embassy and alliances with the Association of American Chambers of Commerce in Latin America (AACCLA) all ensure rapid access to what you need to compete effectively both in local and overseas markets. We can therefore secure for members strategic information on doing business in a particular country; as well as set up introductions to the right business organisations or companies in the U.S. and throughout the western hemisphere.
The Anniversary Issue


Our latest issue of LINKAGE is out.

AMCHAM T&T recently celebrated our 30th Anniversary.
In this special anniversary issue of LINKAGE, we share our story as we reflect on three decades of leadership and excellence that have made AMCHAM T&T a powerful voice for change and progress in our society.

In this issue, we will hear from some of our former and current leaders, members, and committee chairs whose tireless work and sacrifice have helped to enhance the way we do business and subsequently, transform our nation.

We hope you enjoy this special anniversary issue of LINKAGE, and we thank you for three decades of loyalty, support, and commitment.

Read more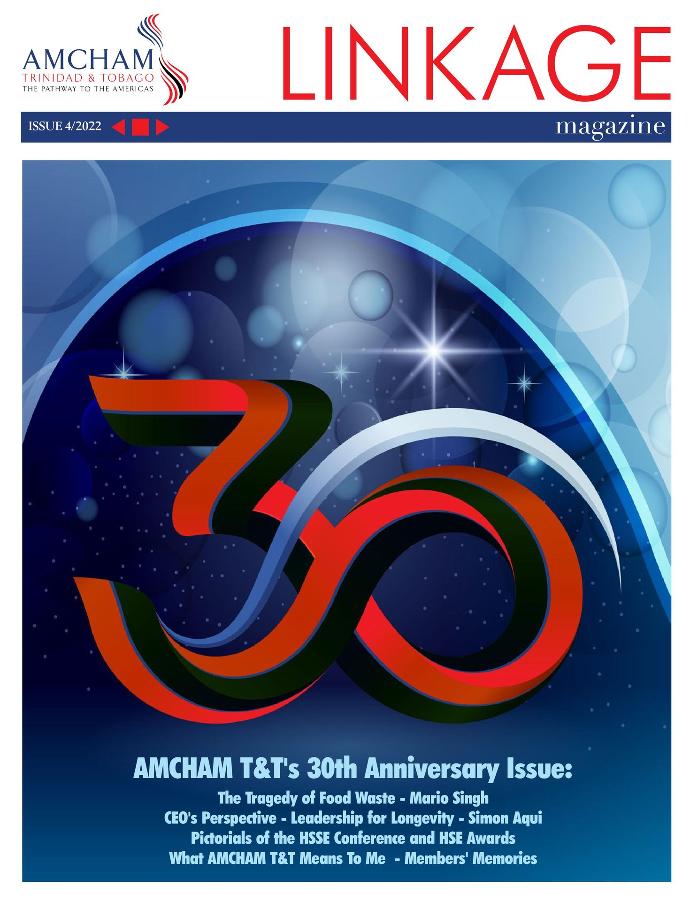 News
---
Stay at the forefront of the latest developments in trade and investment in the Americas and the Caribbean with our featured news.

Become a AMCHAM T&T member today!
Become a member of our organization and gain access to exclusive resources, networking opportunities, and a powerful voice in shaping the future of trade and investment in the region.