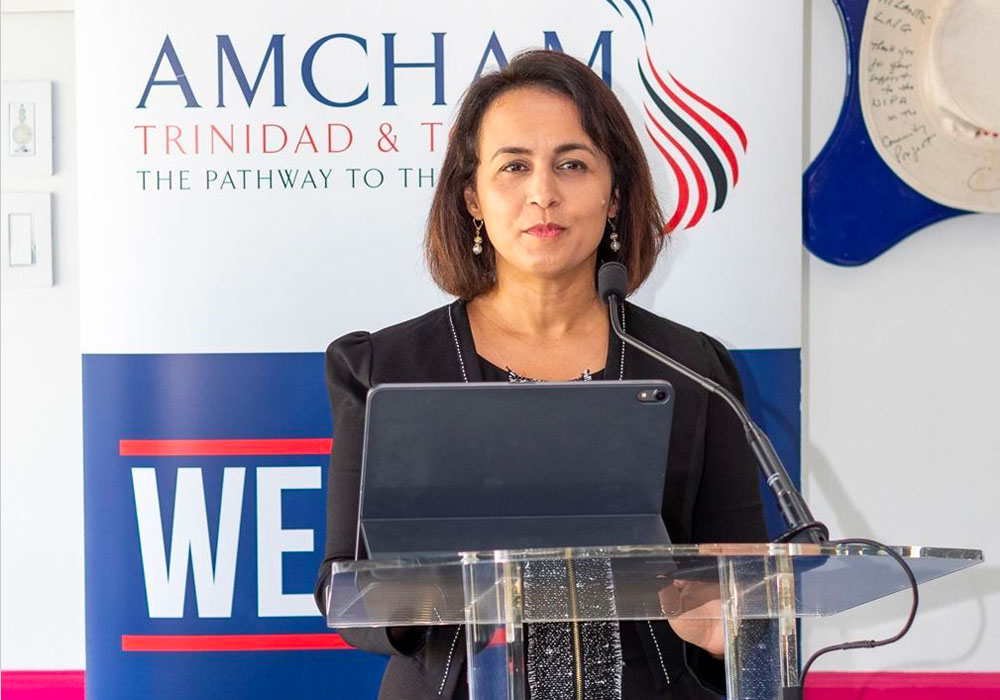 Good afternoon, everyone.

Thank you for joining us today for the launch of our 26th Annual Health, Safety, Security and Environment (HSSE) Conference & Exhibition.

We are very delighted and grateful to have your participation and support today as we seek to build on the work that AMCHAM T&T has been doing for a quarter of a century.

But despite our proud legacy over the last 26 years, this year's conference is going to have a more futuristic focus. To move forward we must adopt a learner's mindset – one that will help us to usher in a new era of progress and success. As the futurist Alvin Toffler wrote: "The illiterate of the 21st century will not be those who cannot read and write, but those who cannot learn, unlearn, and relearn."

This quote is most fitting to what we are trying to do here today and over the coming years because it forms the backdrop of this year's Conference and Exhibition which speaks to "Re-Imagining HSSE".

And. let me be perfectly clear: we are NOT saying that we want to "reinvent the wheel" or that we need to start over in any sense.

What we are saying is that NOW we must continue building on the lessons we have learned and use them to transition HSE into a new era.

What does this era look like for HSSE? We see it as:

- an era that is defined more by innovation through the increased adoption of new tools and technologies

- an era that encourages sustainable business practices as we all move towards net zero.

- an era that embraces new perspectives and approaches around HSE compliance

- an era that takes on a deeper philosophical look at accidents and emergencies while still maintaining all the scientific findings that have driven our decision-making.

This year, the Conference will put some of these changes in clear focus and highlight the innovations in the industry and show how these new tools and techniques are reducing fatalities and protecting the environment.

AMCHAM T&T's drive behind the HSSE Conference is simple - we want to save lives and livelihoods. We want employees to have workplaces defined by a culture of HSSE awareness and compliance. We want children to return to schools where they feel safe and protected. We want to ensure that HSE is not viewed as a checklist item, or one determined by cost factors but instead, HSE must be a core priority of ALL industries and ALL companies.

The pandemic brought into focus the importance of mental health - a topic I am pleased to say that we have been focused on since 2015. This year, we are exploring the topic once more, but we are re-imagining and evolving with the current trends. No longer are we addressing mental health in the workplace from the sole perspective of making sure employees have access to good mental health resources, but from the perspective of ensuring that there is no stigma attached to accessing these resources? We will be having conversations about mental health through personal stories which show vulnerability from leadership.

Also, we can't ignore the health and safety impacts when we lead with exclusion or discriminatory practices in our workplaces. Therefore, we are saying that in HSSE, issues of diversity, equity, and inclusion must be addressed if we hope to create a psychologically safe workplaces that empower our employees and help prevent unhealthy situations that may lead to undue stress and trauma.

To create safe spaces for our employees, we will be addressing issues of leadership - we must be able to create strong leaders who can support our people - these are matters that we will address head-on in this year's Conference.

I also want to mention that we are also launching the 12th Annual National HSE Awards which will evaluate companies for their robust HSE systems. This award program is awarded by judges with over 30 years of experience in HSE and provides companies with coaching to fill existing gaps in their HSE arsenal.

I am also happy to say that this year, the Awards would also include a mentorship component where companies who are not successful in the first round of judging will be given one-on-one coaching for a maximum of two (2) years. The aim is to assist companies to improve their HSE systems, with an end goal of improving HSE nationally.

So now, I want to recognise our SPONSORS who are helping us to build and Re-Imagine the HSSE culture.

Thank you to our TITLE SPONSOR: Atlantic LNG – We thank them for their continued partnership and support of this conference which dates back to 2018. Also, we thank our PLATINUM SPONSORS: NGC Group of Companies; bpTT, Shell, Proman, Digital Era Group, Yara and Woodside Energy as well as our GOLD SPONSORS: Nu Iron Unlimited; Point Lisas Nitrogen Limited, Heritage Petroleum Company Limited and Hitachi Systems Security Inc for their unwavering commitment to this issue.

This year the HSSE Conference will be a hybrid affair from November 01st to November 3rd – the first two (2) days will be in person at the Hyatt Regency in Port-of-Spain and the third day will be virtual. We have once more gathered a diverse mix of talented and highly accomplished speakers who will be delivering excellent content and information around this year's theme: "Re-imagining HSSE".

Helping us to start this conversation is the renowned keynote speaker and author Bill Sims, Jr. who was recently selected as one of the top ten speakers by the National Safety Council. Bill has created positive reinforcement systems with companies such as Dupont, Siemens VDO, Coca-Cola, and Disney to inspire better performance from employees and increase bottom-line profits. He will be joined by a list of regional and international HSE experts and leaders at this year's HSSE Conference.

Also, I would like to thank the hard-working AMCHAM T&T HSE committee - chaired by Balchan Jadoonanan and vice-chairs Travis Gayah and Camilla Arjoonsing, and our very own, Melissa Pierre, Senior Trade and Policy Specialist at AMCHAM T&T for their strong leadership and commitment on the coordination of this year's Conference & Exhibition.

Let me remind you to check out the official 26th Annual Health, Safety, Security and the Environment (HSSE) Conference & Exhibition Website at https://amchamtt.swoogo.com/HSSE2022. There, you will find all the information about our speakers, sponsors, agenda, sessions, topics, registration details, and much more.

We hope to see you on November 1st – November 3rd for AMCHAM T&T's 26th Annual HSSE Conference & Exhibition.

Thank You.

END.