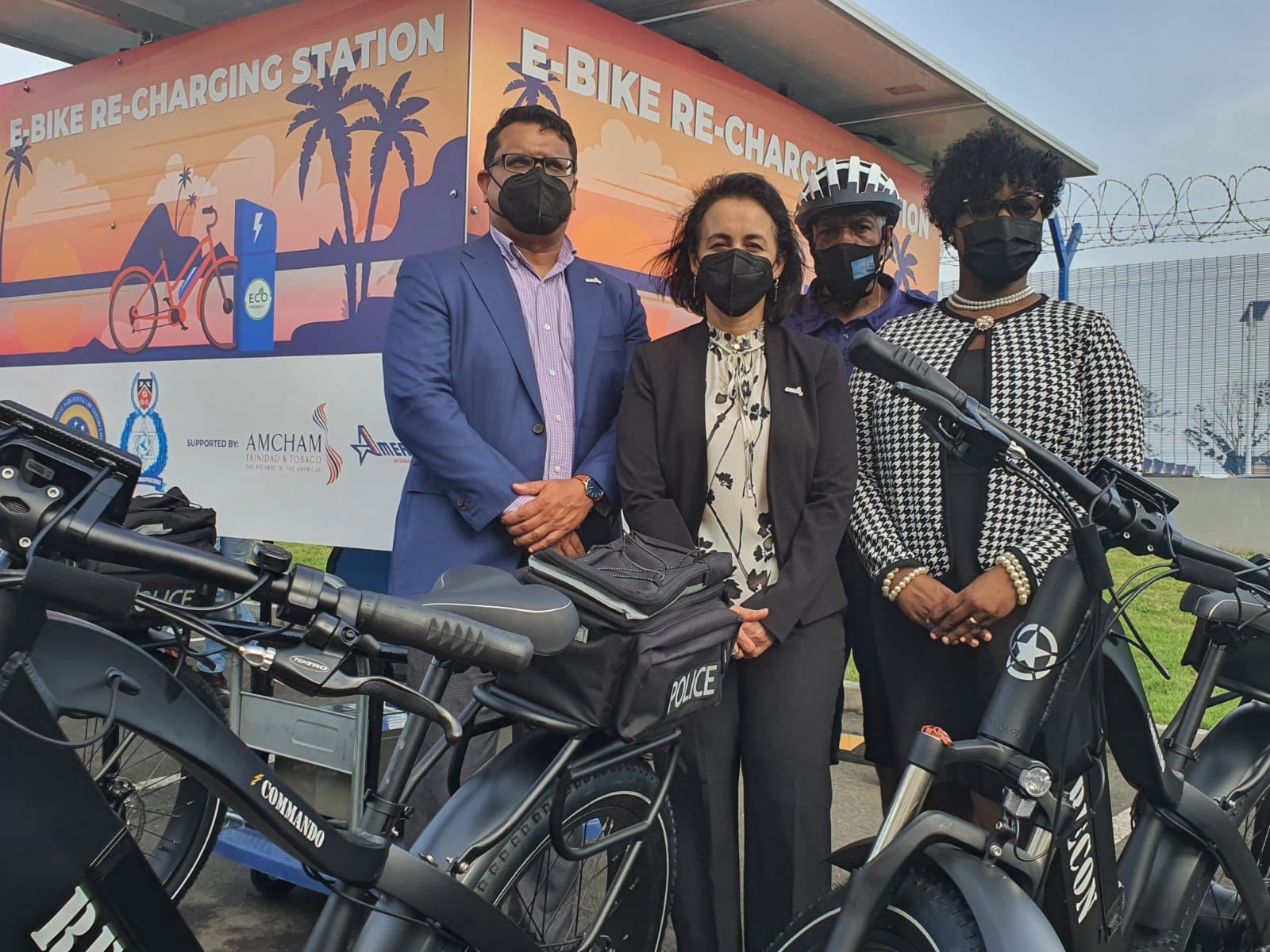 Good afternoon, everyone.
It is a pleasure to be speaking to you today here at Shirvan Road Police Station in Tobago at this INL eBike Handover Ceremony.
At the American Chamber of Commerce of Trinidad and Tobago (AMCHAM T&T), we have a strong desire and record of delivering quality service to our members, their communities, and our nation. This handover ceremony serves as another amazing example and a reminder of how collaboration, mutual trust and commitment to a single cause can build bridges and unite people and organizations around an initiative that will benefit the wider interest of the community.
When AMCHAM T&T first got the call about this initiative, there wasn't a moment of hesitation about whether we should get involved or not. Initiatives such as this which hold the dual purpose of positively impacting the quality of life of our citizens while simultaneously improving the ease of doing business will always remain a top priority for us at AMCHAM T&T. Therefore, we are very happy to be partnering with the US Embassy, the Trinidad and Tobago Police Service, and the many agencies whom you see here today on this very worthy initiative.
Against this background, I take great pleasure to thank the US Embassy and Chargé d'Affaires Shante Moore for providing an opportunity for partnership on this noble venture initiated by the Bureau of International Narcotics and Law Enforcement Affairs (INL).
I must also extend my personal gratitude to Amerijet International Airlines - one of AmchamT&T's loyal members - for their partnership and support with the construction and outfitting of the E-Bike Recharging Station that will be delivered to the Trinidad and Tobago Police Service Tourism Oriented Police Unit (TTPS TOPS) at the Shirvan and Roxborough Police Stations.
The introduction of these solar-charging eBikes as a solution to combatting crime while incorporating technology is a major step forward in our nation's anti-crime arsenal. I want to personally thank the TTPS for their progressive stance to lead with technology as they continue their challenging work to combat crime in our nation.
We are very fortunate to be living in a digital era right now where almost every part of human functioning has an element of technology that makes life much easier, simpler, and more efficient. Therefore, technology must remain a critical means of crime prevention strategies and policies to keep citizens safe.
The deployment of these eBikes will serve multiple purposes in crime prevention and the police response to criminal activity. Citizens can feel assured of better engagement with their law enforcement officers in their communities through increased neighbourhood patrols as well as the eBikes will also help law enforcement to move more efficiently in spaces where a vehicle would be more cumbersome or dangerous and respond to emergency situations a lot quicker - bringing a measure of relief to all citizens.
This is particularly important here in Tobago with its scenic beaches and unique flora and fauna, it is important that we conduct business inclusive of crime prevention, in a manner that is ever mindful of this pristine environment.
Additionally, with the unique cultural events and festivals that are known to draw record crowds every year, these eBikes will ensure an added measure of safety and protection to patrons and spectators at these events.
At AMCHAM T&T, our partnership and support of this initiative are both necessary and strategic. Necessary, because crime is a problem that affects everyone both directly and indirectly. Our quality of life is hampered, our businesses suffer, and ultimately, our nation pays the price when we are unable to attract both tourists and investors to our shores.
It is also strategic for us because partnering on this venture complies with our mandate to promote technology and greater attention to the conservation of our environment across all industries and sectors to ensure our nation's sustainable growth and development.
Moving forward, we need a lot more of these private-public partnerships as we seek to combat some of these big problems with even bigger solutions to drive progress in our nation. And so as I close, I reaffirm AMCHAM T&T's commitment to working with all our stakeholders on initiatives such as this one so we can create a safer society for all citizens of our beautiful twin-island republic.
Thank you.