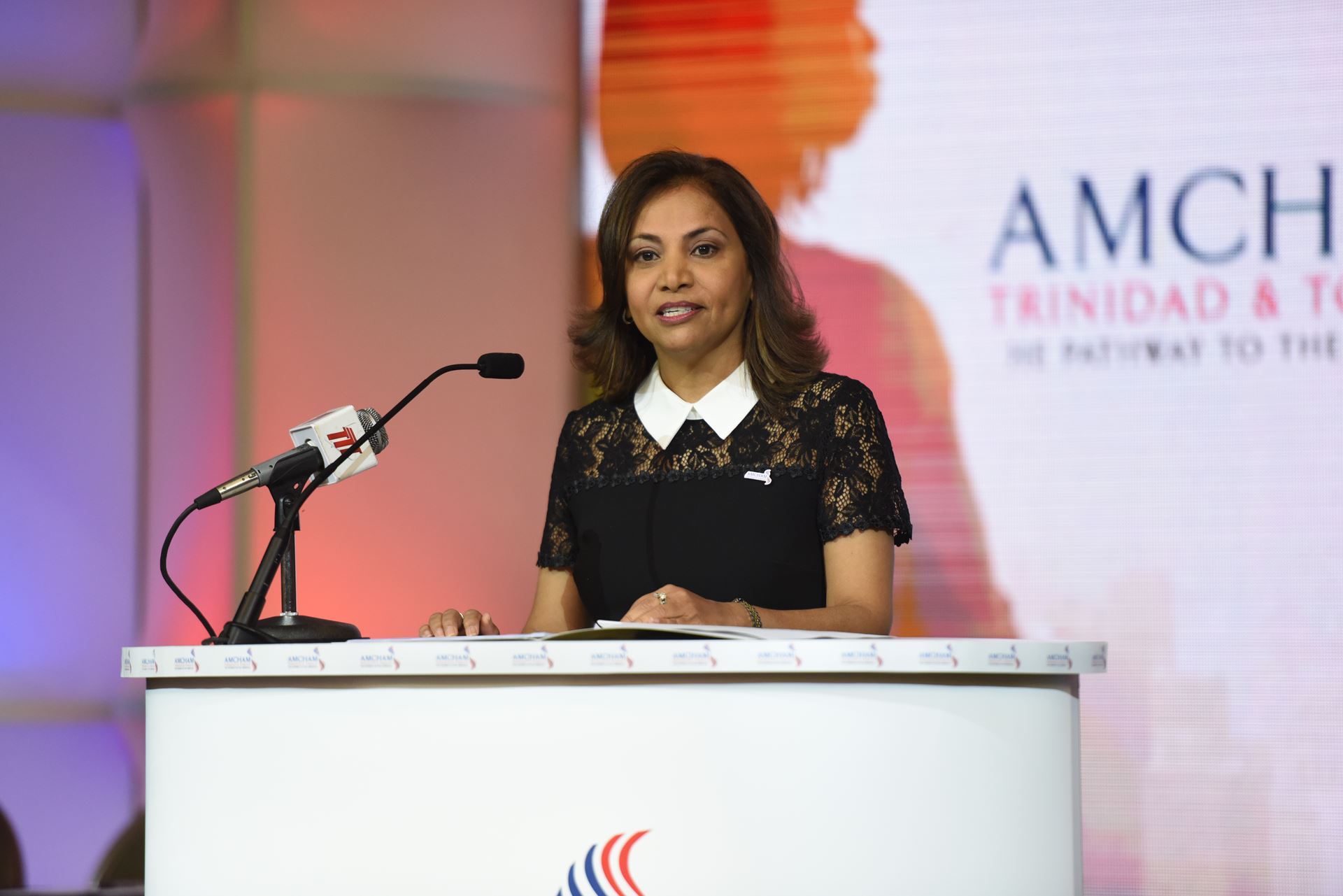 26th Annual Health, Safety, Security & Environment (HSSE) Conference & Exhibition
President's Welcome Remarks 
Good morning ladies and gentlemen.

Let me begin by thanking you for being here today at AMCHAM T&T's 23rd Annual Health, Safety, Security and the Environment (HSSE) Conference and Exhibition.

Today marks another milestone for all of us at AMCHAM T&T. For twenty-three years AMCHAM T&T has been leading the national discussion on issues related to Occupational Health, Safety and our Environment through our flagship HSSE conference. 

When I reflect on the early days of this Conference, I remember the many challenges we face simply trying to raise awareness on these issues. Now twenty-three years later, we have seen this Conference grow in capacity, leadership, and expertise. Today AMCHAM T&T's HSSE Conference remains the premiere HSSE conference in the Caribbean that brings together the largest gathering of HSSE professionals in one room to share knowledge and offer best practices and solutions on HSSE matters.

Over the years the leadership we have delivered through this conference has proven that HSSE policies don't just make good business sense but also save lives. Now today we are once more raising the industry standards by seeking to "Advance the HSSE Transition". What do we mean by this? It means we are evolving with the changing times with respect to how HSSE issues are being applied to our workplace culture. We are looking at the new and emerging trends and topics that would help us to further advance the HSSE transition that will be useful to your organisations. Over the next two days, we will lead exciting and dynamic discussions on issues related to Mental Health, the Environment, Leadership Process Safety, Disaster Resiliency, and Cyber Security.

For this, I would like to thank our title sponsor Atlantic who has once more partnered with us to deliver this quality-driven conference. We are honoured to have Dr. Philip Mshelbila who is the CEO of Atlantic to deliver the official sponsor remarks today. I also want to say thank you to all our partners and stakeholders who have joined us on this journey over the years. You don't get to twenty-three years of changing the way companies address safety processes in the workplace and protection for our environment if we didn't have a committed and focus-driven group of companies supporting this movement. AMCHAM T&T remains grateful for all the work each of your companies has been doing to make sure HSSE culture becomes the established norm of conducting business in Trinidad and Tobago.

This morning you will also hear from Senator the Honorable Robert Le Hunte, Minister in the Ministry of Public Affairs who is here with us to deliver the Feature Address of this Opening Ceremony. We are grateful for the support from the government which has listened to us over the years based on the leadership we have promoted on these issues. But there is so much more we all can do to promote HSSE best practice and leadership in the way we conduct business.

OSHA STATISTICS

This brings me to recent statistics from the Occupational, Safety, Health Authority and Agency (OSHA) which showed that there was a 33% reduction in fatalities in 2017-2018 as compared to the 2016-2017 period. And whilst we applaud the move in the right direction for fatalities, we are concerned that there has been a 54% increase in non-critical accidents over the same period. We believe these numbers are too high, and as we all know, numbers alone, cannot paint the true picture of the impact of an accident on the life of the worker, their families, or the reputation of the company.

OSHA TT

AMCHAM T&T is also very concerned as it relates to the progress that Occupational Safety and Health Authority of Trinidad and Tobago has made over the years. When you look at equivalent OSHA bodies in other countries – they balance the legal side of compliance, with the voluntary and proactive support and recognition for businesses that want to embed and sustain a safe and healthy workplace. The Voluntary Protection Program (VPP) in the US, Approved Codes of Practice and Support in the UK, and OSH Safety Plus Program in New Zealand are some examples.

The OSHA Act was passed in 2004 and amended in 2006. It is based largely on the UK's Health and Safety At Work Act 1974 - This legislation is 13 years outdated! There are still no regulations to support the Act and guide employers on interpretation of the act. 13 years later – it seems we have become stagnated.

How many things have changed since 2006? We all conduct business differently, our processes have changed, our job designs have changed, and so should our legislation. OSH legislation around the world is also changing and is seeking to take human factors into consideration.

OSHA TT should be an important vehicle to support those businesses and business owners who want to protect their workers and also to prosecute those that do not care about employee health and safety.

AMCHAM T&T is calling on Government to pay attention to this very important regulatory organisation - safeguarding the lives of those working in Trinidad and Tobago is of utmost importance.

HSSE LEADERSHIP

We have long said that HSSE policies don't just make good business sense but good H.S.S.E practices and policies are saving lives. But if HSSE practices and policies aren't rooted in the leadership culture set by management, and in particular at the C-suite level, then a company's HSSE policy is just words on paper. Gone are the days when HSSE compliance should be left solely to the HSE manager. Companies need to stay ahead of the curve, not just to beat their competition but more importantly to protect their employees. Senior management and the C-suite should take it upon themselves to:

· own and understand the key issues involved in HSSE
· make decisions on how to communicate, promote and champion health and safety
· allocate enough resources to manage risks
· set targets and design clear goals and objectives
· maintain monthly reports to review with an aim to take decisive and immediate action on health and safety performance.
These are the reasons why we are Advancing the HSSE Transition and opening the conversation to CEOs and H/R Managers to take leadership on HSSE issues.

DISASTER RESILIENCY

Moving on to Disaster Resiliency.

Our citizens have both witnessed and fallen victim to recent natural disasters. One year ago, some 2000 households were affected by massive flooding and landslides throughout the country after five days of torrential rainfall. And just one month ago, T&T under the influence of the outer bands of Tropical Storm Karen recorded almost an entire month's worth of rain during a twenty-four-hour period which resulted in flash flooding and the elevation of the Riverine flooding alert level to RED once again. And it's been a little over a month since residents of Piparo have been bracing for the eruption of the mud volcano after recent heighten volcanic activity.

Not only are we seeing the effects of climate change around the world, but the question that's now being asked is: where is the disaster management resiliency plan and is it working?

While the greatest facet of our humanity often emerges in these perilous times it goes without saying that the relief from natural disasters should not be left to the charitable acts of private citizens and companies. Our nation needs a comprehensive disaster resiliency plan that integrates climate change considerations into priority sectors to allow for the appropriate interventions.

This is why today I am proud to announce AMCHAM T&T's support for the Private Sector Alliance Resilient Societies (ARISE) project initiative. Today, we will be officially signing the MoU with the United Nations Office for Disaster Risk Reduction (UNDRR). This initiative will bring together an alliance between the private sector, the public sector, and other stakeholders who are committed to raising awareness and sharing knowledge in order to coordinate an efficient disaster risk reduction proposal for Trinidad and Tobago.

AMCHAM T&T is proud to establish the coordination network between the UNDRR Regional Office of the Americas and the global ARISE initiative to fully develop the local ARISE chapter.

CLIMATE CONTROL

I move now to the impact of climate control on our future generations. Earlier I spoke about leadership from senior management and the C-suite, but I believe if we want to seek out leadership then we need to look no further than to the leaders of tomorrow. Our young people have proven to be innovative, highly skilled, and now socially conscious. The problems we have created, and they will sadly inherit, are now at the forefront of their consciousness and they are rising to the challenge.

We saw this most recently when sixteen-year-old Swedish activist Greta Thunberg confronted the leaders of the world at the UN Climate Summit in September 2019 on the issue of climate change. Her rousing speech captivated the world's attention.

It is young people like Greta who continue to inspire us here at AMCHAM T&T. Twenty-three years of promoting HSSE policies and practices are born out of the urgency and need for swift action youths like Greta demands for the future they deserve. As business leaders, we ought to listen to what our younger generation is teaching us. Give them a voice and let's follow their lead.

AMCHAM T&T applauds the government's recent policy to ban Styrofoam and reduce the cost of energy-saving bulbs but we all have our part to play as well. Companies can do more to reduce their energy consumption, minimise waste, use raw materials more efficiently, and prevent pollution. The survival of our planet and the future we leave for our young people hinges on the changes we adopt today to protect our environment.

CLOSING REMARKS

AMCHAM T&T believes that the current state of HSSE issues is continually evolving which is why this Conference remains so critical to the way we conduct business. Therefore, we will continue to invite the greatest minds to offer cutting-edge ideas and concepts as well as add innovative solutions to our annual HSSE conference. We believe we have already accomplished that this year just by looking at the ambitious agenda we have set forth. For this, I want to thank our HSE and Security Committees for all the hard work, knowledge, and expertise they have brought to this Conference. Moving forward, we need to remember that a healthy marriage between HSE and Security is what will create the right HSSE governance framework and leadership we hope to see in all companies across all industries.

We also hope to share this information with our neighbours so they too can start the process of ensuring HSSE culture is rooted in the way they do business. We were grateful for the collaboration we had with our sister AMCHAM in Guyana when earlier this year they hosted their inaugural HSSE conference. We look forward to strengthening this regional integration with our neighbours especially towards securing HSSE excellence.

Before I close, I want to take this opportunity to thank our title sponsor, Atlantic for once more partnering with us on this initiative. Thank you to our Platinum Sponsors: the NGC Group of Companies, BP, PricewaterhouseCoopers, Shell, BHP Billiton, The TCL Group and Pro Man. Our Gold Sponsor Nu-Iron, our Silver Sponsors Citi and Yara and our Airline Sponsor United Airlines. I am grateful to our HSE Committee led by Chairman Ms. Cindi Nandlal and assisted by her co-vice chair Travis Gayah for all their hard work. Thank you to the CEO and Board of Directors of AMCHAM T&T for spearheading this movement of HSSE awareness and thanks to the secretariat for the work they do behind the scenes in coordinating this conference. And thank you to all our guests here with us today. Thank you for sharing with us this commitment to promoting HSSE awareness in the way we conduct business.

Finally, to all our exhibitors who have taken the time to share their products, services, and expertise, we thank you for being a part of this year's exhibition and I encourage each of you here to visit their booths.

Thank You.

END.