ECONOMIC OUTLOOK FORUM 2023
PRESIDENT'S WELCOME REMARKS BY TONI SIRJU-RAMNARINE
"Recalibrate & Refresh"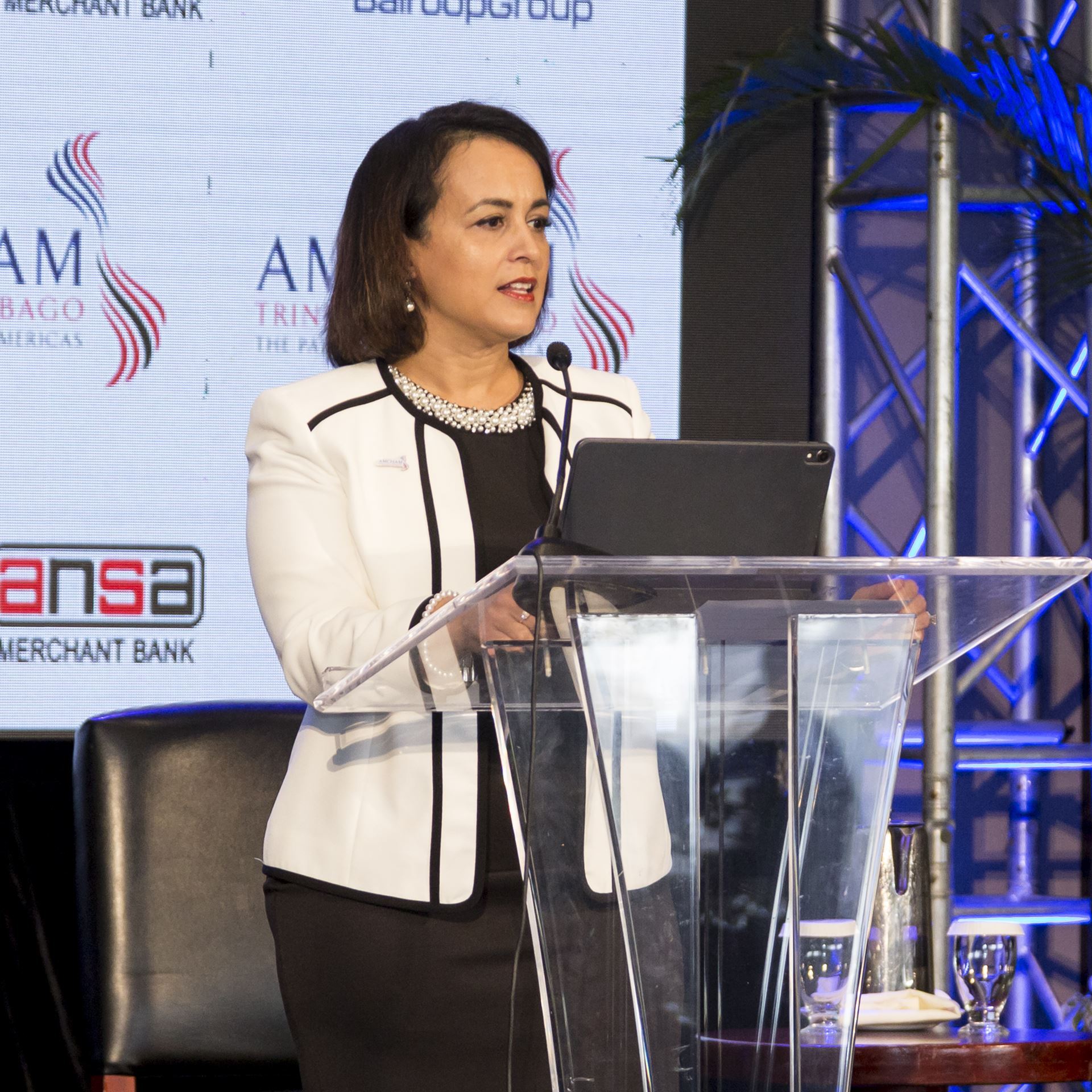 Good morning.
It is my pleasure to welcome you in person to AMCHAM T&T's first major business event of the year - our Economic Outlook Forum for 2023.
Now I had hoped we would be hosting this event with the unsettling disruptions of the pandemic well behind us, but it seems as though this virus is not done with us yet given the new variants resulting in increased infection and hospitalization rates. Nonetheless, we have learned many lessons over the last three years and built resilience, so the theme of our forum this morning is aptly entitled "Recalibrate & Refresh".
Today's Economic Outlook Forum will provide you with important information about what businesses have to say about their plans and expectations for our country's economic stability and growth.
We will be hearing from Zack Nadur, Partner/Strategy & Transactions at EY Caribbean who will present the findings from our economic pulse survey that we conducted with our members - and I thank you very much for participating and providing your valuable input. The findings will provide keen insights into the positions of the business community as we seek to reinvigorate the economy.
Of course, we are delighted to have the Chairman Designate at Massy Holdings Limited, Robert Riley who is our feature speaker. I am sure you are as anxious as I am to hear and learn of his views for his company's growth plans and what he sees as critical success factors for a buoyant economy.
CURRENT ECONOMIC ASSESSMENT
So what is the state of our economy? Currently, the macroeconomic outlook is more positive. We have not been able to say this at the beginning of the year for quite some time. The growth outlook for 2023 has improved with oil, gas, and petrochemical prices expected to be higher than pre-pandemic levels. The IMF has forecast growth to increase to 2.1% in 2023, while Government revenues are expected to grow by an average of 11 % during the period 2022–2025. All of this is expected to contribute to a decline in our fiscal deficit from more than 11% of GDP back in 2020 to less than 2% for the period 2025 to 2027, according to the InterAmerican Development Bank.
Now Trinidad and Tobago continues to be a natural gas based economy and we know that our country has benefited from the global impact of the war in Ukraine, which has resulted in higher natural gas, petrochemical, and petroleum prices - hence the increased revenue in 2022 and projected growth for the next two years.
But as we are also all aware, Trinidad and Tobago is becoming regarded as a mature natural gas province. Therefore, we must take steps to be competitive and attractive for continuing investment in the upstream, especially in the deep water. And cross border gas, which is the fastest way to move that dial, becomes all the more important.
Now notwithstanding the significant role of natural gas and its derivatives pricing in this scenario, the increase in revenue is good news. However, we caution that we should be prudent in our spending given the volatility of the external shocks these growth projections are hinged on. It is imperative that we use this increased revenue to implement programs that will generate future growth in diverse sectors. Very importantly, we also have to ensure that the expected improvement in macroeconomic conditions is felt at the micro, or individual level. As we would all agree, I'm sure, that would be the ultimate measure of success.
ADDRESSING CRIME
Now, as we seek to recalibrate and refresh to improve our economic well-being, we must address crime. We cannot have an economy with upward growth projections and increased revenue alongside a murder toll that is skyrocketing and breaking records every year. That does not bode well for conducting business, incentivizing trade opportunities, and citizen security. Growth and economic development in the midst of out-of-control crime is unsustainable.
This horrendous crime situation is a wake-up call to everyone and must be a collective priority by all of Trinidad and Tobago. That's why AMCHAM T&T has joined with other business chambers to find constructive and positive ways in which we can help play our part in addressing this national crisis.
We have established a joint working group among our organizations, and we held our first meeting yesterday to share ideas to see how we can take concerted action around some practical initiatives.
We will also propose specific policies, programmes, and legislation that could help address the crisis and advocate for introducing these changes with the relevant stakeholders.
On this we very much welcome input from you, our members to formulate these anti-crime strategies. So, let's put our heads together and work collectively to make a difference. If you have suggestions, please reach our Secretariat and we will ensure these get incorporated into our working group's discussions.
INFLATION AND FOOD PRICES
Another area that must be addressed is the issue of escalating food prices due to inflation and climate change impacts. With inflation expected to increase in 2023, according to the latest World Economic Outlook of the IMF, this will further dampen the purchasing power of consumers who are already facing increased pressure.
Here we can incentivize opportunities for farming and agriculture. While we may be able to do little about the disruptions in supply caused by the war in Ukraine - we can look at making our agriculture sector more attractive to our young people, locals, and even our migrant population. We need to invest in smart agriculture - unlocking innovation within agriculture, implementing crop insurance for farmers, and enhancing our agro-processing industry, so we can reduce the import bill, improve the country's food security, propel economic diversification, and create employment.
We can also recalibrate our efforts into developing the green hydrogen agenda and decarbonizing the energy sector which would have significant contributions to GDP and act as a catalyst for lower carbon emissions, thereby creating a more sustainable and resilient economy. I know the government has already begun the work on this so all we need now are the right regulations, policies, and incentives to support the development of this green hydrogen economy.
As we seek to implement industrial-scale solar power, and with the ongoing proposed electricity rate increases, the feed-in tariff legislation is absolutely essential. Properly implemented, this legislation can have a transformative impact on our economy, catalyze further reduction in the need for gas for power and bring us even closer to achieving our long-term climate goals. On the rate increases, while we acknowledge a review is in order, we must ensure that this is in tandem with other policies and takes into account developments in nearby jurisdictions, such as Guyana, to ensure that what we do now does not make our manufacturing and light industrial sectors uncompetitive.
Also, let us not lose sight of building the digital economy to unlock our country's future economic prospects. We are very pleased with the work that has already started on digital transformation both within the private and public sectors. We can't afford to return to a pre-pandemic world where technology and automation are being replaced by familiar customs and old ways of doing things. AMCHAM T&T has been championing this and will continue our push to develop the tech sector. Recently, we signed an MOU with TTIFC to develop the FinTech sector, as one vertical within the wider tech sector.
Part of what is delaying the development of the tech sector is the legislative framework to ensure its smooth efficiency, and the lack of training to develop workers' education and skills. We are blessed to have a highly educated workforce, but if the future is tech, we will need to provide the necessary digital skills so that the brightest minds can stay here in their own country. AMCHAM T&T is committed to providing opportunities to upskill our employees and opportunities for our graduates to grow. In the coming months, we hope to launch a new initiative focused on increasing workers' education and skills. More on this soon to come!
CONCLUSION
Listen, these are just some very brief examples of what we can do to boost economic activity in our country. No one is saying that the returns on investment will be swift. However, if we aren't willing to take a risk or at least try something new, something different then we will forever be complaining about the same problems with very few solutions. We have a small window of opportunity here with projected economic growth. We must make wise decisions to increase social mobility and remove so many of the inequities that many in our society are struggling with.
I strongly believe we have the talent, skills, and resources right here to transform our society. But we need to start collaborating more and this does not just mean talking more. I hope it also means listening more but really, I'm speaking about taking action together. Sometimes challenges or even visions seem insurmountable or unachievable, but if we break them down into bite-sized actions, it then takes on a life of its own. It starts with a first step. So, let 2023 be the year where we write a new chapter in building the blocks to a stronger economy.
Ladies and gentlemen, I thank you for your attendance this morning and I hope you enjoy today's session.


END.