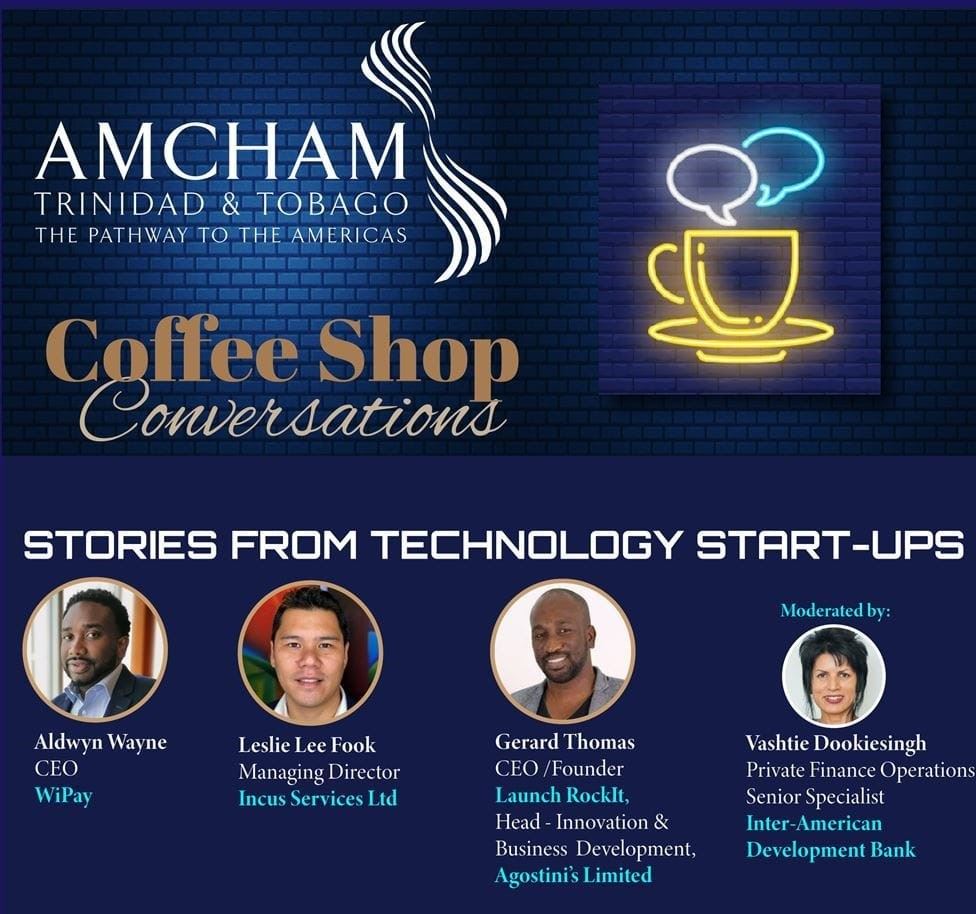 Coffee Shop Conversation Series: "Stories from Tech Start-ups"
OPENING REMARKS by Nirad Tewarie, AMCHAM T&T CEO

Good morning everyone! 

I am Nirad Tewarie, CEO of AMCHAM T&T and it is indeed a pleasure for me to welcome you to our "Coffee Shop Conversation" series. 

Today we have three dynamic speakers who are leading the tech revolution in T&T through the innovative work and services they are providing to the public.

As many of you will know, promoting technology as a viable means for both enabling growth and a sector of growth is a major pillar of our work at AMCHAM T&T. We definitely see an opportunity through technology to stimulate our economy by creating new and exciting jobs, boosting entrepreneurship, and building the talent pool through innovation and competitiveness. Moreover, we firmly believe that the tech industry can be a significant source of investment in T&T in the very short term.

To achieve these objectives though, we need a holistic approach. Next door, Barbados' open-door policy, allows people to work from Barbados for up to a year, hassle-free and is already attracting applications from highly-skilled tech workers. Undoubtedly, some of these people will form partnerships that will help Bajan companies internationalise. Some of them will stay in Barbados and create businesses. Barbados has created a regulatory sandbox for fintechs and they are undertaking significant economic reforms. My point is, to create the kind of dynamism that a viable, globally competitive tech industry needs – indeed all businesses need – the government and institutions need to be dynamic.

This is why today's conversation featuring "Stories from Tech Start-ups" will show us how these experts are leading the tech industry through their innovative work. How did they do it? How could their journey have been easier with a more facilitatory environment?

But first, why are tech start-ups so important? It's because countries and cities that have invested in tech start-ups have witnessed a major tech revolution that has improved the quality of life for citizens. Once priority was given to tech-driven start-up economies, cities have seen development in areas such as transportation, clean energy, and the emergence of other innovative industries that have positively contributed to overall GDP growth and productivity. Tech start-ups in Britain are helping to improve the quality of emergency services by alerting medical professionals to emergencies near them who can then respond even faster than the emergency services. In Argentina, I have a friend who has developed an e-platform to collect food that is edible but about to go to waste and deliver it to people in need. So enabling the tech sector is not just about enabling business for profit – which isn't a bad thing – but the tech community in any place that there is a cluster, also focuses significantly on the provision and enhancement of social goods.

So that's why we believe technology has the potential to improve the quality of life for citizens. The quickest way to influence this will be through creating an enabling environment for a tech ecosystem, of which start-ups are an integral part. This is why we are saying that there needs to be an environment that will encourage and promote innovation and creativity. 

It's part of the reason why we launched the business accelerator programme for tech entrepreneurs before last year's t.h.i.s. conference in partnership with the IDB and CARIRI. The accelerator programme was meant to foster growth in the technology sector in Trinidad and Tobago because we recognize that entrepreneurship is a driving force for growth and innovation in any economy. It was also part of a wider initiative to create a truly connected tech ecosystem in Trinidad and Tobago that will drive real change and make us more competitive globally. 

When we look at some of the countries that have invested in developing their start-up ecosystem we see how quickly they have transitioned from underdeveloped to developed status. Just think of Estonia and Israel for example. They are home to companies like Skype, TransferWise, Wix, Waze, etc. Estonia is now known as "the most advanced digital society in the world" after more than two decades of government leadership in digital technologies. And the same can be said for Israel, which was once known as an underdeveloped, war-torn nation. A start-up boom helped grow its economy and made it a developed nation, globally recognized as a start-up hub. So it's clear that with the right investment and leadership from both the state and private sector, start-ups can be a key component of leading a nation out of poverty and into prosperity. But they must be part of a wider ecosystem involving business, academia, government, and a range of capital provision services.

With COVID-19 causing many disruptions to our lives and livelihoods, we also have an opportunity here to channel our focus to a more digitally-based economy that will help us weather the storm in the coming months. And what better way to do this than to nurture a start-up ecosystem through technology that can boost entrepreneurial activity, create new jobs, increase the talent pool of our younger citizens, and attract foreign investors?

We all know the big 5 tech companies in the US: Facebook, Amazon, Apple, Netflix, and Google (collectively called FAANG. It might be hard to imagine these giants of the tech world as tiny start-ups with brilliant founders just waiting for that big break. But that is what they once were. All it took was the right idea, one that fulfilled a need or solved a problem (even one people didn't know they had) belief in that idea, the tenacity to make it work, and of course, the right leadership climate to attract investors for it to take off and literally change our world. And all of this would have started, first with an idea and then a culture and climate that allowed these ideas to transform our lives and our world, simply from the introduction of small companies doing big and amazing things.

With many in the established tech centers realizing that in the race to find the next best thing and attract the very best talent they have to look outside the center, now is a great time for T&T and the entire Caribbean to leverage the strengths of excellent management of the pandemic, wonderful climate, creative people, great connectivity and so much more to really go after being the tech hub islands.

That's the message we hope to leave you with today after you have heard the amazing success stories from our three experts. We hope that you allow what they share with you to inspire you to think big, focus more on that little idea you once had but allowed doubt to deter you from making it a reality, and we hope that some of you who have the means will look at these dreamers and invest in the vision they are sharing with you. And remember, AMCHAM T&T is here to help in this journey, so keep in touch with us. Join us and reach out.

Before I leave, I would like to thank our Digital Transformation Committee for taking up this mantle and for creating this webinar series. I also want to thank our speakers for their support and for the insightful information they are about to share with you. And finally, I need to thank our sponsors, Republic Bank, Digicel Business Solutions, PwC, Atlantic, and our digital media partner: Trend Media for their continued support. 

In closing, I want to reiterate, AMCHAM is here to support you. We are open to initiatives and ideas from you, so just simply reach out to us. If you have suggestions for webinars, topics, or speakers, please let us know.