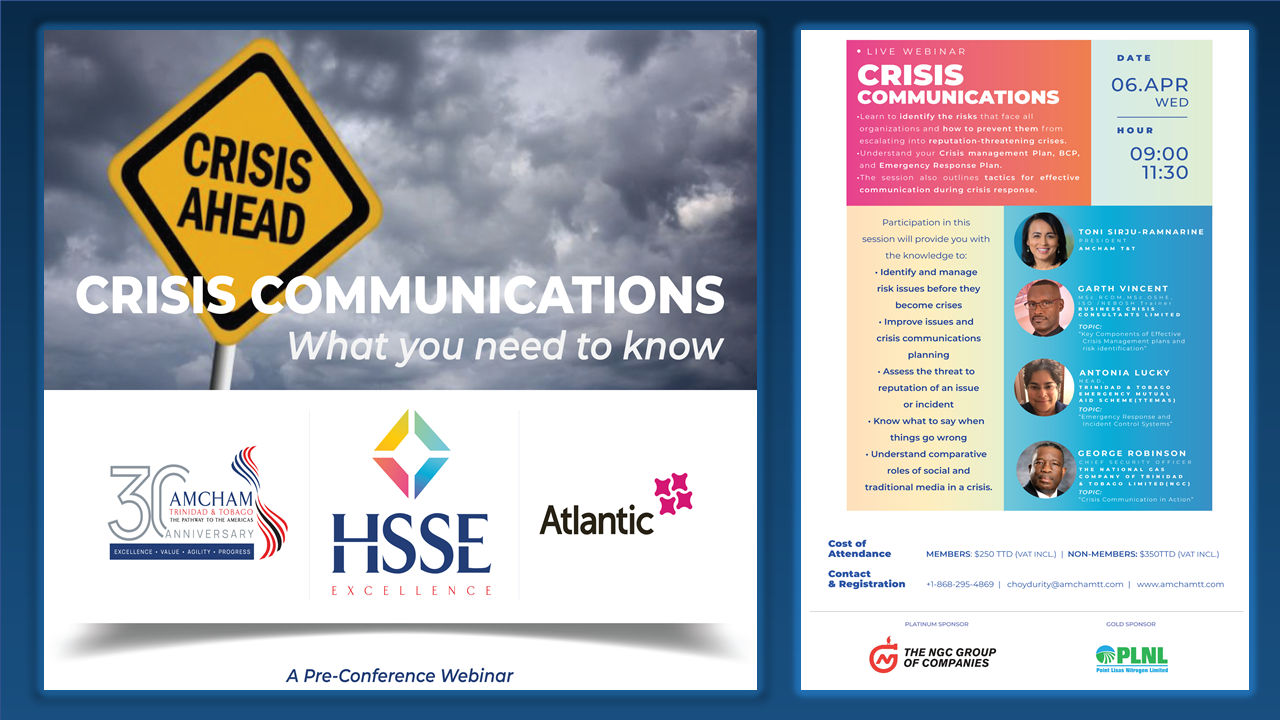 Good morning, everyone.
Thank you for joining us this morning. As we gear up for AMCHAM T&T's HSSE Conference later this year, this is the first Pre-Conference Webinar that we are hosting, and it is on Crisis Communications – What You Need to Know? I am Toni Sirju-Ramnarine – President of AMCHAM T&T.
I want to begin by thanking our sponsors: Title Sponsor- Atlantic, Platinum Sponsor – The National Gas Company of Trinidad and Tobago and our Gold Sponsor – Point Lisas Nitrogen Limited for their support to host today's Webinar.
Today's session is meant to provide vital information about the necessity for organisations to have an effective crisis communications strategy. As a responsible organisation, AMCHAM T&T and our speakers today will not be making any announcements or inferences on any active investigations and will appreciate your understanding on this matter. Therefore, we ask that you refrain from asking questions about ongoing investigations.
Now let's talk about crises. These are often unexpected, unwanted, and unpleasant, and while many organisations do focus on conducting effective risk assessments to prevent tragedies and incidents from occurring, we need to recognise that crises do happen. They may not happen with great frequency but that doesn't mean we don't invest in the training and resources for events that are unexpected and unpredictable. That means effective leadership especially in today's world requires preparing for the unforeseen and unpredictable. Let's face it, we have spent the greater part of the past two years doing just that!
And so, because all organisations are vulnerable to crises, it means every organisation today must make crisis management planning a major part of its operations. This includes looking at the prevention, preparation, and training strategies that detail what is to be done during the pre-crisis stage followed by managing the response to the crisis as it is unfolding in real-time, and then finally seeking better strategies to prepare for the next crisis while fulfilling the commitments made during the crisis phase.
Part of this preparation has to do with how we communicate BEFORE, DURING, and AFTER a crisis to ensure that the company's integrity, reputation, brand, and stakeholder relations remain intact. And in stakeholders I include, not only its external stakeholders, but very importantly its own employees as well.
This is what today's session is about. It's important to implement the necessary incident management plans and policies to prevent and simultaneously prepare for a crisis which includes having these conversations to respond to a crisis because so much of our world is defined by:
• how we communicate
• what is communicated
• at what point do we communicate
• why do we communicate
• And to whom we are communicating
These are all fundamental questions and concerns we must have when responding to any situation that demands answers where the information is limited, inconsistent or uncertain. However, it is especially during these times that we must increase our outreach to our public to be transparent, to provide guidance, and very importantly, to offer support and sympathy.
During these times, our words and actions can be the equivalent of keeping people safe or increasing the threat.
But what should be the message in the age of social media and the internet where news goes viral instantly. This is what we are here to ask and answer. Inaction and failure to respond will not cut it in an age where accountability is demanded from the public. Ultimately, this is what will build organisational trust and loyalty in the long run.
Now we have to acknowledge that today, the biggest change we have witnessed in crisis management is the revolution of social media. We should never underestimate the voice of the public or fail to accept that they won't care. Any incident involving injury or fatality shows how quickly the public can move from being engaged to enraged. It is during these heightened periods of a crisis that the public feels most empowered to voice their opinions, propagate rumours and experiences, and cast judgement in a highly visible manner that can reach millions around the world.
Finally, I want to add, that while the message is important, so too must be the messenger. Therefore, it is so important to have effective spokesperson training in any crisis communications plan. These are the people who will deliver your message with the proper media relations training and skills to provide key information that debunks rumours and false theories with concrete facts and evidence that enlightens and comforts.
Today our distinguished panel of experts will provide more insight and information on these points. They will share the strategies to effectively handle crises. I hope that after today's sessions more companies see the value to invest more readily in this so that they are better prepared to handle these unfortunate incidents and communicate effectively with their stakeholders and wider public.
Thank you.