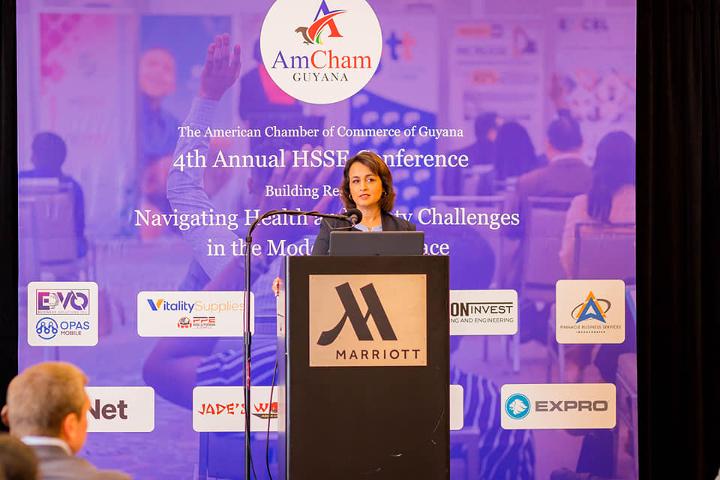 Building Resilience in A Changing Landscape 

Good morning, everyone.

I would like to begin by expressing my gratitude to our host, Mr. Devindra Kissoon, President of AmCham Guyana, and to his team for their warm hospitality and the opportunity to speak at this year's HSSE Conference.

I remember it was only four years ago when our organisations met to hold discussions on this important topic and indeed I was here for the first conference. Today, it warms my heart to see how much this event has grown in capacity, leadership, and expertise. For this reason, I must congratulate AmCham Guyana for its unwavering commitment and advocacy on these issues.

This year's conference theme asks us to build resilience to navigate health and safety challenges in a modern workplace. There is no question that our world has changed and will continue to change. Today, we conduct business differently, our processes have changed, and so too have our job designs. So I ask, how can we continue to build resilience in a continuously changing landscape?

I am sure everyone here in this room wants the same things out of life. We each have an inherent need to survive, to belong, and to become. 

Survival in a workplace context lies in our ability to perform our jobs safely, and in the relationships we build with our co-workers, suppliers, and customers.

Belonging is that sense of wanting to be accepted for who we are, knowing that we are cared for and protected while feeling included everywhere we go. Am I a good employee, team player, boss, or leader?

And of course, Becoming refers to our universal desire to learn and grow so that we achieve our goals. Hence, organisations must continue to prioritise learning and development to unlock their people's potential.

We know that the past three years have been filled with immense challenges. But many opportunities forced us to learn and adapt. We survived and thrived by finding the resilience in ourselves to cope, adapt and move forward.

As we look ahead, we must protect this at all costs. The challenges of the past three years taught us that if we lead with resilience, we can conquer all of life's transitions, unexpected changes, and unfortunate circumstances. 

All of this is possible once we are willing to change with the changing times. For Guyana, so many positive developments have been happening and more are expected. If the latest IMF report is any indicator, then Guyana is expected to undergo a sustained period of high economic growth. Indeed, this is creating lots of excitement and optimism, and so as you continue along this journey, I want to ask all of you in this room here today, what exactly are the visions you have for yourselves, your companies, and your country. 

For me, the answers to these questions always come back to leadership. 
It requires real leadership to create a robust and effective safety culture within our organisations and at the heart of this, the priority must always be on our people. They are the ones who go to battle for us every day in their jobs and we must be the leaders who are willing to battle for their needs and interests in the workplace.

It is against this backdrop, that I want to focus on four (4) key areas that show how we can increase leadership, and build resilience in a changing landscape. They are: 

1) creating psychologically safe workspaces 
2) leading with Human and Organisational Performance (HOP) principles to build a safety culture
3) investing in technology, and
4) protecting our environment

PSYCHOLOGICAL SAFETY
I am sure every leader here wants to make their workplace optimal for learning, innovation, and growth. For this to happen we must have an established safety culture that allows all employees to feel seen, heard, trusted, and included. Therefore, we must be committed to creating a climate of psychological safety that allows people to speak up and share their ideas.

We need leaders who will communicate more openly by actively listening to their people and showing empathy to foster a growth mindset. They will also need to acknowledge missteps and express vulnerabilities to allow learning and improvement within the team and organization. Building a psychologically safe workplace requires a great deal of self-reflection so I invite you to truly contemplate these questions: 

- Are we leading the kinds of organisations which reward persons for being brave to put their hand up if something has gone wrong or where ownership of mistakes is encouraged, where people feel they are supported if they fail? 
- Or are we the types of leaders that immediately resort to blame or create the kinds of environments that suppress bad news? 
- What about empowering our underrepresented colleagues who may face unfair barriers because of their race, ethnicity, religion, disability, gender, sex, or sexual orientation? 

I ask you to imagine what it feels like to be a young female process engineer of 21 years old, walking for the first time into your job place – a plant with 100 men and no women; and to have to constantly go above and beyond your male colleagues to prove your technical competence, to brave the harassment every time you walk out on that plant; or to be the only woman in the boardroom; and to battle the stereotypes that in almost all instances truly are unintentional; they are just unconscious biases – unconscious biases which we ALL have. 

 So, I encourage you to be aware of the challenges posed to people who are different from ourselves, for example those with disabilities in the workplace or when a person's gender or sexual orientation results in harassment and discrimination. Building psychological safety means we embrace collaboration, that we lead with respect, and that we foster a sense of belonging.

Once this happens our companies will benefit from diverse perspectives, greater creativity and innovation, increased productivity and performance, higher inclusion and empathy, and overall, a healthier and happier workplace environment for all.

This is why there is so much more awareness and attention to the significance of mental health. In the modern workplace mental health policies are no longer an option but a real occupational necessity. I am so pleased to see that this is an important topic in this conference and I look forward to learning from the expert speakers that have been assembled here to speak on this critical topic; one of them being my fellow work colleague also from Atlantic LNG, Dr Ishvan Ramcharitar.

LEADING WITH HOP
I want to speak now about the Human and Organisatonal Performance principles (HOP Pronciples) which help to create a learner's mindset and allow us to approach safety differently. For so long, our health and safety strategy has been built around enforcing various rules and policies to avoid accidents and injuries. However, HOP reminds us that human error will involuntarily happen in spite of the best-managed policies and systems. Why? Because humans will make mistakes and casting blame will not fix the problem.

If the goal is to build more resilient organisations, then HOP can shape and influence how our organisations think, act, view success, and respond to failure. This is what will help us to change the way we think about work and how we improve it. Remember if we want to improve organisational performance, then we need to be learning both when things go wrong and from our everyday actions. 

Finally, when leaders start working on their response to failure as opposed to their reaction to failure, only then can we create a far better environment where everyone is able to learn, develop and grow. Reacting to failure leads to blame and judgment which ultimately hampers valuable learning opportunities. So, we must learn to manage that response to build a more resilient and effective organisation. 

HSE & TECHNOLOGY
And as we speak of resilience in a changing landscape, we cannot ignore the fact that we live in a digital world and that the changes that technology is bringing will continue to evolve at an even faster rate. And so as we strive to improve our organisations' safety cultures, we must utilize the new technologies available in this digital age. 

There are many technological solutions that are being deployed across organisations to reduce risk and drive efficiencies. For example, many organisations are using Digital Twins to replicate their facilities which allows for planning of high-risk activities, especially if they are in close proximity to each other, making simultaneous operations safer to execute. It also allows for immediate access to the 3D image of the facility on handheld or wearable devices in the field, giving operating personnel the ability to access critical information real-time on pieces of equipment while in the field, allowing them to make faster safety interventions. It also has the added benefit of saving time and cost in the estimation of works to be done instead of having to use man lifts, harnesses, and scaffolding to physically measure pipe runs and heights for planned maintenance activities.

When you layer on to this virtual and augmented reality which is being used to digitalise physical spaces and their infrastructure this further helps health & safety professionals navigate high-risk environments.

And let us not forget the power of data. Data in all of its forms – structured and unstructured - is an organisation's most critical asset. Harnessing data for example in a data lake, from which information can be analysed gives an organisation real time insights to drive faster and better decision making, potentially saving lives and minimizing risk. And I haven't even spoken about the transformational changes that artificial intelligence and machine learning are bringing which can be used to predict anomalous situations and therefore prevent incidents.

Whether we accept it or not, we are living in the digital age. If you are at the stage where you are designing facilities or adding new projects, build technology into your early stages of planning; and for those who are already in operations, don't be afraid of technology, invest in it to stay competitive and relevant. Mapping out a clear digital strategy is an answer to every company and country hoping to be successful and survive in a continuously changing landscape. 

ENVIRONMENT
Finally, we cannot talk about building resilience and not talk about the environment. 
Despite our region's relatively low contribution to global greenhouse gas (GHG) emissions, the effects of climate change have left many Caricom countries and economies highly vulnerable due to our region's geography, location, and economic dependence on agriculture and tourism. 

Already, we have witnessed more frequent and more severe hurricanes and tropical storms, a rise in sea levels and coastal flooding, an increase in temperatures, environmental degradation, lengthier dry seasons, and shorter, but harsh rainy seasons which have affected agriculture and food supply.

For these reasons, we must continue to lower carbon emissions and build climate resilience to sustain economic prosperity, environmental security, and social well-being across the region. Now Guyana has experienced Climate Change effects marked by increased temperatures, rising sea levels, and intense rainfall, but this country's rich and remarkable amount of biodiversity can provide a solution by strengthening sustainable forest management to avoid deforestation and degradation.

I am pleased to see the Guyanese government showing real leadership on this issue by developing the Low Carbon Development Strategy (LCDS) of 2030 and supporting the global call for low-carbon transition and the Net Zero target by 2050. And it's important that there is full buy-in from all interest groups. Therefore, all of us in the private sector must accept our role in reducing our carbon footprints to meet the worldwide goal of decarbonization. Remember, even as we seek to enhance social and economic investments, we must protect the natural environment.

CLOSING REMARKS
As I close, I want to reiterate my earlier comments, commending my colleagues at AmCham Guyana for continuing their attention and leadership on these HSSE issues. 
On behalf of your fellow American Chamber, AMCHAM T&T and indeed, the wider business community in Trinidad and Tobago, I would also like to express our full support and commitment to you, all of you assembled here as well as to the government and the people of Guyana as like us, you too embrace this new era of HSSE awareness and compliance across all industries in the private and public sectors.

We would very much welcome your participation and contributions in our conference which takes place later this year, in October. With 26 years of solid experience and leadership in securing HSSE policies and regulations in Trinidad and Tobago, always remember that AMCHAM T&T is here to partner with you, whenever the opportunity arises.
I thank you very much and wish you all a successful conference.