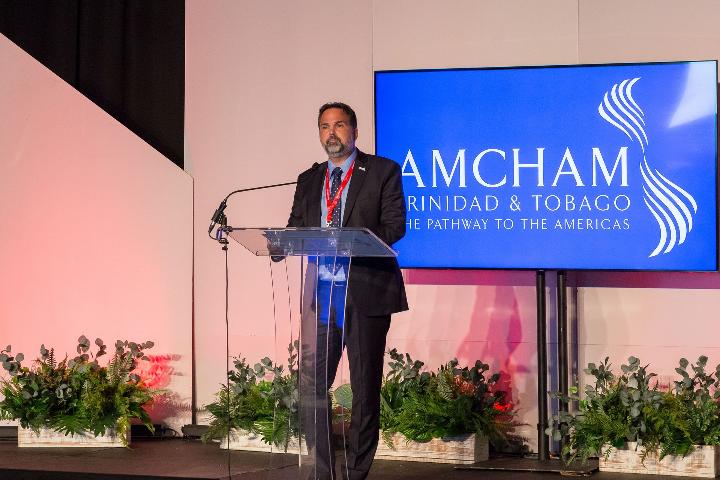 Good afternoon, ladies and gentlemen.

Thank you for being here today to join us for this our 30th annual general meeting. Your presence is greatly appreciated. It is with great humility and gratitude that I stand before you as the newly elected President of AMCHAM T&T. This is an organisation that is very dear to me and the TSL Group, evidenced by the fact that Nick Galt, TSL's Founder and Chairman is a past President.

I am truly honoured and deeply humbled to accept this responsibility and pledge to dedicate myself wholeheartedly to the betterment of our business community.

I would like to express my deepest appreciation to all the members of this chamber who have placed their trust in me. Your confidence in my ability is not taken lightly, and I am committed to leading this chamber with integrity, transparency, and a relentless drive for progress which has been embedded in me during my 20 years at Trinidad Systems Limited.

I must also acknowledge my 16 predecessors' incredible efforts and achievements, especially our Immediate Past President Toni Sirju-Ramnarine. You all have paved the way for us and set a remarkable standard of excellence. I am fortunate to inherit your legacy and will work diligently to build upon it, striving to surpass even the loftiest of expectations.

I also want to thank the Board of AMCHAM T&T. I could not have asked for a better board than this amazingly talented group with whom I get to share this journey. I look forward to working with each of you to achieve what I hope will be many great milestones.

Over the next year, there is a conversation I hope to have with you all and other stakeholders. It is centred around how we generate more business and, in so doing, positively impact the lives of our employees and every citizen in our country. This is what I ask myself every day in TSL as we make decisions on behalf of our employees, our customers, and our respective family.

Over my tenure at Amcham T&T I have always been proud of the collaborative and engaging approach that has defined what this organization stands for on every issue. AMCHAM T&T is the place where you come to find solutions, not just share concerns. Usually, this approach means keeping our eyes on the bigger picture by bringing all the parties together and finding common ground on the issues that seem to divide us.

I doubt that anyone here would object if I said we need more collaboration to move our country forward. In recent years, we have been deliberately working more closely with other chambers and strengthening relations with international agencies and partners. We have also been engaging with the Opposition and building on our collaboration with the Government.

Building bridges and finding solutions to support business growth will continue to be two of AMCHAM T&T's top priorities. The reason we focus on these two priorities is that the role of AMCHAM T&T, and indeed Amchams throughout the world, is to contribute to the expansion of trade through investment, exports, and improving the rule of law. We cannot achieve these things by working alone. We must work on these things together, building on the small successes until we unleash the full, dynamic potential of the country.

I make no apologies for saying that business has a huge role to play in realising that dynamism. Therefore, we must find more effective mechanisms for Public Private Partnerships. We must take a closer look at the areas where business can support the Government's objectives and the desires of our people for better service delivery of public goods to see where collaboration can lead to improved results. 

Permit me to touch on three specific issues around which I believe, collaboration can yield significant successes.

These are crime, customs reform, and the development of the tech sector.

CRIME
In late December of last year, AMCHAM T&T as a part of the Joint Chambers, that is us, the Energy Chamber, the TTCIC, and the TTMA put out a statement in which we said that addressing rising, violent crime must be the number one priority of the Government. In that statement and in every subsequent communication, publicly and privately, we have offered our support and indicated our willingness to collaborate with the Police Service and the Government more broadly in the context of a clearly articulated plan.

As an organisation, we are reiterating the need for clear, targeted, coordinated, and collaborative actions to urgently address and reduce crime. I believe we can all agree that crime is badly affecting confidence in our economy and discouraging a significant portion of potential investment. 

As we seek to enhance the culture of collaboration, we do not want to put out a list of things that we believe need to be done. Instead, we would like to work with the Government and the TTPS to develop a mechanism of continuous engagement to support the very clear and specific goal of reducing crime and then work on all the inputs and measures – the immediate actions and the longer-term solutions – that will allow us to achieve this common objective.
We look forward to discussing this further with the Honourable Prime Minister and members of the Cabinet and the Commissioner of Police and her Senior Leadership team.

CUSTOMS REFORM
The difficulties in conducting trade due to the long wait times for clearance and associated inflated costs are also negatively impacting confidence. Challenges at the borders are making it much more difficult and costly to do business. While delays and increased costs are affecting businesses of every size, small businesses that can't afford large inventories, are being hit the hardest.

We are heartened by a meeting we had with the Hon. Minister of Finance one week ago and we look forward to working with the Government, Customs, and our members to find urgent, sustainable solutions that will allow us to conduct trade more efficiently while simultaneously protecting the nation's borders.

DIGITAL STRATEGY
As we look to the future, AMCHAM T&T will be doubling down, so-to-speak on the development of a tech sector in T&T.

We have been putting things in place to create the ecosystem required for this. We applaud the work of the TTIFC to develop the FinTech sector and look forward to collaborating more closely and effectively with John Outridge and his team through the framework of our recently executed MoU to support these efforts. 

We are also heartened by some of the initiatives of the Ministry of Digital Transformation and were pleased to have hosted a consultation with them for our members on the country's digital strategy. 

We see the development of a tech sector as a vital component of our country's future growth strategy by way of allowing local businesses to export tech services to international markets, developing a critical mass of local talent, rapidly enhancing the competitiveness of well-established businesses, and connecting established businesses with disruptors so that they can work together on solutions that will create opportunities for generations to come.

In this regard, of course, we have our upcoming 5th Annual Tech Hub Islands Summit (THIS) event on June 29th and 30th right here at the Hyatt Regency. We are ready to Catapult our digital transformation journey (That's our Theme). It is critical that we map out the plans to establish policies that strengthen ICT skills development and education so that we can create the critical mass of people with required tech-related skills to sustain the digital economy we are building. Over the next year, we intend to roll out some skills-development programmes as we seek to do our part to address this issue and hope to be able to make a major announcement in this regard at the 5th Annual Tech Hub Islands Summit in a couple of weeks.

We will also continue to work on putting the nearshoring strategy into action and hope that this generates some momentum in the near future.

Tech is no longer the future. Tech is today. We cannot keep playing catch up while our regional counterparts outpace us in our digital journey. We must create an ecosystem in which technology is not just solving problems but creating increased opportunities for further growth and development. All of this is still possible. 

CLOSING REMARKS
In closing, the members of AMCHAM T&T and I will never stop believing in the potential of the country. More importantly, we will never stop working to realise this potential. Sometimes that means taking a detour to fix things that need to be addressed but we have been, and will be, here for the long haul. 

In the face of ever-evolving challenges and opportunities, I believe we must embrace change, adapt, and remain agile. We will foster an atmosphere that encourages collaboration, spurs innovation, and supports sustainable growth. It is imperative that we keep pace with Technology and the shifting market dynamics to keep our chamber at the forefront, equipping our members with the tools, knowledge, and resources they need to thrive in this dynamic landscape.

I am humbled by the trust you have placed in me to serve as your AMCHAM T&T President. I am fully aware of the weight of this responsibility and the work that lies ahead. However, I am also filled with excitement and optimism for the future. Together, we will empower our members, strengthen our community, and build a prosperous future for all.

Let us embark on this journey together, united in purpose and dedicated to the success of AMCHAM T&T and the businesses it represents.

May God continue to bless us All!